Book: Anna Dressed in Blood
Author: Kendare Blake
Genre: YA, Paranormal
Other books by this author: Three Dark Crowns,  Goddess War series, Sleepwalk Society
Goodreads
Summary:
Cas Lowood has inherited an unusual vocation: He kills the dead.
So did his father before him, until he was gruesomely murdered by a ghost he sought to kill. Now, armed with his father's mysterious and deadly athame, Cas travels the country with his kitchen-witch mother and their spirit-sniffing cat. They follow legends and local lore, destroy the murderous dead, and keep pesky things like the future and friends at bay.
Searching for a ghost the locals call Anna Dressed in Blood, Cas expects the usual: track, hunt, kill. What he finds instead is a girl entangled in curses and rage, a ghost like he's never faced before. She still wears the dress she wore on the day of her brutal murder in 1958: once white, now stained red and dripping with blood. Since her death, Anna has killed any and every person who has dared to step into the deserted Victorian she used to call home.
Yet she spares Cas's life.
I'm struggling to put in to words how much I loved this book, but I'm going to try. And I'm going to use some gifs to help me.
Anna Dressed in Blood had me gripped from the first page, desperate to keep reading and find out more about Cas and his strange life hunting ghosts.  I couldn't wait to meet Anna, and discover her story. I'm disappointed it took me almost 3 days to finish the book. I would have happily finished it in one sitting, but I just couldn't stay awake long enough!
I started reading this Friday night when my kids were asleep and my wife was working late, which had me jumping at every sound. But overall, this book wasn't really as scary as I'd expected. It was pretty much perfect for me though, as I wasn't sure if I was ready to be completely terrified. Anna Dressed in Blood had just enough elements of the supernatural to make it deliciously creepy without making me lose sleep.
I loved that this was told from Cas's perspective. It was different from the usual female protagonist, and Blake did it well.  Before starting the book I thought maybe it was going to be narrated by Anna, but it was made so much more intriguing that we got to learn Anna's story from an outside perspective. And speaking of Anna's story, I absolutely love the way Blake revealed how Anna died – a very clever way to portray a flashback.
Anna was awesome. I don't know how else to describe her, I thought she was absolutely wonderful. Anna was terrifying and beautiful, tragic and hopeful, haunting and haunted.  I loved the eerie version of Anna, the stuff of legend. Victim of a horrific and grisly death turned horrific ghost murderess.  I loved the dichotomy of uncontrollable murderous rage and her calm intrigue when faced with Cas.  In short, I adored Anna.
My only small critcism about the book is that I didn't really feel I got to know some of the characters as much as I would have liked. Anna was a beautifully developed character, but I would like to have seen a bit more of this development applied to the minor characters, Carmel in particular. I never felt like I got to know or understand her very well.
This is only the most miniscule criticism, as I found this book to be basically perfection. I adore the spooky world of walking ghosts that Kendare Blake built in Anna Dressed in Blood, and I look forward to getting to know her ragtag cast of characters a bit better in the sequel to this captivating story. Once I picked it up, I didn't want to put it down until I'd finished it.
I'm fascinated by ghost stories. I am still trying to make up my mind whether I believe in ghosts or not, but I'm absolutely enthralled by the stories and go through phases where I completely devour them.  Anna Dressed in Blood has triggered the return of the ghost intrigue.  Kendare Blake has got me like: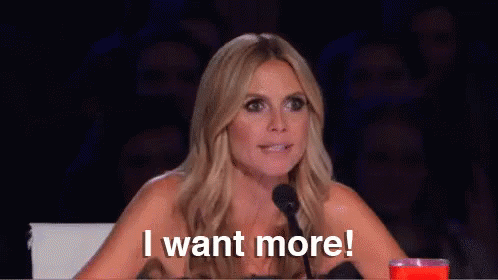 Anna Dressed in Blood is my favorite book that I've read so far in 2017. It might not be everyone's cup of tea, but if you like to be a little bit creeped out, this book is for you!
And now off I go to read Girl of Nightmares!
You can find Anna Dressed in Blood and Girl of Nightmares on Amazon UK
here
.